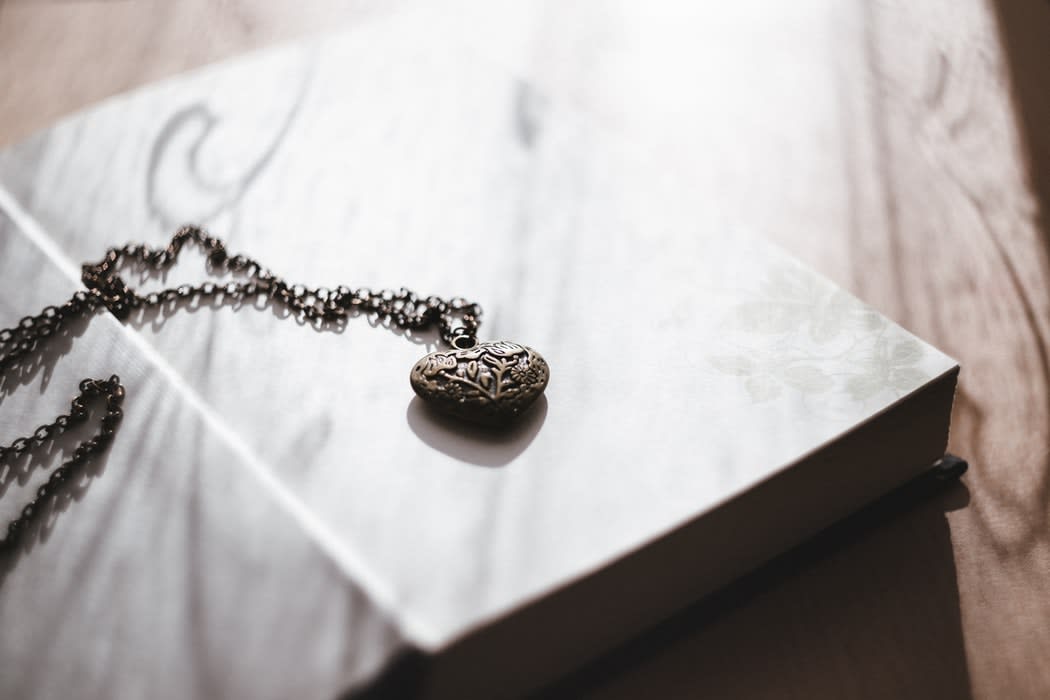 If you stopped someone on the street 15 years ago and asked them whether they had any human ashes on them, they would have thought you were mad
.
Now – well, they'll
probably
still think you're mad – but you're far more likely to get a "yes" for an answer. More and more people are carrying a loved one's ashes with them in 'keepsake' jewellery. A once-tiny industry is
suddenly
flourishing. But why this, and why now?
Memorial jewellery has a history
This is not a new thing. The Victorians (ever morbid) were keen on memorial jewellery of all kinds.
Often made from jet and other black materials, these pieces fit with the strict mourning dress code of the day
. 
At the time, British cremation was still in its infancy. So, Victorian memorial jewellery didn't usually contain ashes. But many pieces contained a small memento, like a lock of hair. They were a way to show the world that you treasured a loved one's memory.
Eventually, memorial jewellery fell out of fashion. People were living longer, and by WWI the culture around death and mourning had shifted. But the precedent was set…
Attitudes towards cremation have changed
Cremation was controversial at first.
The British Home Office banned the first crematorium from use shortly after its construction
. It took years (and lawsuits) before cremations could
regularly
take place.
But, by the late 1960s, the number of families choosing this option had overtaken burial.
 And as that number grew, there was a gradual shift in what people decided to
do 
with the ashes, as well.
In the 60s, around 80% of families buried or scattered ashes in the remembrance garden at the crematorium
. Now, that figure is completely reversed, with 80% of families taking the ashes away with them. 
Preferences have also shifted away from the big-urn-on-the-mantlepiece towards scattering. People often don't want the ashes (and there are a
lot
of ashes)
in the house
.
While it can be comforting to keep a loved one close by, large urns can be intimidating, and the question of where to put them
equally
daunting
. 
By comparison, scattering the ashes on a hillside or river has real romantic appeal. It can feel like more of a final resting place. A small ceremony, somewhere that resonates with the person they love, can offer a kind of closure. In fact,
79% of people
who want a cremation would like their ashes scattered.

A happy medium

But scattering does have drawbacks. More than a few people who have scattered ashes have found themselves missing them. By then, it's too late to do anything about it. So, many of us have started to wonder if there was a way to do both: put the person to rest, but also keep them close. 
Enter ashes jewellery. Families can scatter most of the ashes, and keep a small amount back to place in a locket or ring. And over the last few years, this way of memorialising someone seems to have blossomed. Now, there is a
wide selection of ashes jewellery
to choose from.
From hollow pendants to clever pieces with the
ashes held in glass or resin, there's something for everyone
. 
But, unlike Victorian memorial pieces, these new designs are subtle.
Rather than broadcasting the owner's loss, they allow the wearer to feel close to their loved one – without anyone the wiser
.
Future or fad?
Only time will tell if ashes jewellery is a brief fashion or here to stay. But most people are at least aware of the option, and
a number of
companies have sprung up to meet this need. It's also possible we'll never know quite how popular ashes jewellery is. After all, with the new pieces being so discreet, who else is to know you're wearing them – unless you tell them …