Much-needed changes to the government's Funeral Expenses Payment are rolling in. Their aim? Making it easier for families to get government help with funeral costs. Here's what you need to know about the update.
---
The Funeral Expenses Payment offers people on certain benefits help with funeral expenses. At the moment, it covers the least expensive burial or cremation in the area, hearse transport for journeys over 50 miles, and up to £700 to cover 'extra' costs like funeral director fees, flowers, or a memorial.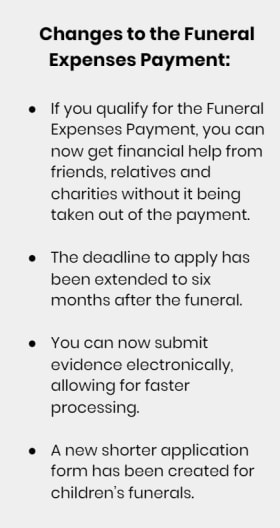 Coming in on April 2nd 2018, the new changes to the scheme are set to make it easier to apply. The key update is that people will be able to use money given to them by relatives, friends and charities on top of their Funeral Expenses Payment – currently, this money is taken out of the amount the government sends. They'll also have more time to apply, and the option to share the evidence for their claim online to speed the process up.
In a statement on gov.uk, Minister for Family Support, Housing and Child Maintenance Kit Malthouse said that 'It is only right that we make it as simple as possible for people to get help towards funeral expenses during what is an extremely difficult time.'
But with funeral costs on the rise, some experts are questioning whether the changes go far enough. The most recent government figures place the average Funeral Expenses Payment at £1,427, yet (according to a 2017 Sun Life report), the average cost of a funeral is over £4,078 – an increase of 116% since 2004.
'These changes are needed to modernise some of the practical aspects of the payment, but in reality, the fact that the additional expenses allowance is staying at £700 will leave many people struggling,' said James Dunn, co-founder of Beyond.
He added that – while funerals booked on Beyond are on average cheaper at £2,629 – 'until further changes are made to the Funeral Expenses Payment, families applying will likely need to explore additional ways to raise funds and lower costs'.