It's featured funeral director time, when we catch up with the best, brightest and most-intriguing industry professionals in our catalogue. This month, we're talking customisable coffins and sparkler processions with Fran Glover from A Natural Undertaking – and asking why 'funeral director' isn't always the right name for what they do.
---
Brought to life in 2014, A Natural Undertaking was created by friends Carrie and Fran as a new kind of funeral service – one that champions choice and more hands-on family involvement – serving the Birmingham area. Four years in, they've just bought their second car (a 'dinky' electric hearse, the first white one bought in the country) and are about to open new premises. We reached out to Fran to discover the secret to their success.

How would you sum up your approach at A Natural Undertaking?
For us, it's about being open to all ideas, and helping people to have as much choice as they want and need.
So, rather than saying, 'This is what we offer, and this is what we do,' we say 'What is it that you would like to happen here, what do you need to do?' And that starts a conversation. And no question is a silly question – or no request is a silly request.
The greatest satisfaction we get is knowing that we're actually helping people to do something that they want to do at a really difficult time of their life.
Why do you think family participation matters?
Not everyone wants to do it (and they don't have to), but some people feel that they want to be more involved with the funeral. Families who do it often find it really cathartic.

For example, we helped one gentleman decorate his mother's coffin. He wanted to put pictures of all the places that she'd been to – all around the world – on it. But he needed some help, so we said he could come in and we'd help him out. Then, at the end, he actually said, 'I can't believe how much fun I've had decorating my mother's coffin!' We felt that that was because the entire time, he'd been telling us stories about her, talking about her, and remembering things – it's a lovely thing to be able to do.
When somebody dies, you're powerless to do anything about it. But afterwards, what you can do is get involved and express your feelings, your knowledge of that person, in a creative way. And it can be very helpful.
 
Why 'A Natural Undertaking' and not 'Natural Funeral Directors'?
It's a deliberate choice: the way we feel is that 'funeral directing' kind of implies that we'll be telling people what to do, where to go, where to stand, how to be. What we would prefer to do is be there as a support in the background, and help people do what they need to do. So 'undertaking' feels like a better description of how we are.
What's the most memorable funeral you've helped to arrange at A Natural Undertaking?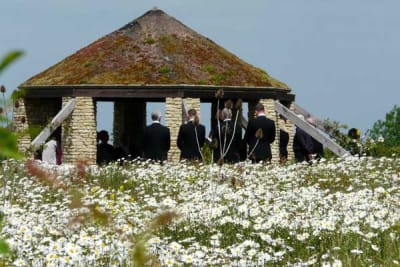 They're all lovely in their own way, but there have been a few in the last 12 months that have been kind of stand out. One lady, who was a well-known yoga teacher in the area, had quite a large funeral – about 200 people.
We spoke to her and her son before she died (she wanted to make the arrangements so that he didn't have to worry) and she was very clear: she wanted a cardboard coffin, she wanted people to come and decorate it, she wanted music playing, her friend was going to lead the service … and sparklers were mentioned.
When it came to her funeral, we booked the village hall and we put the coffin there with a craft table – and she wanted us to print 'om' stickers as well that people could stick on the coffin – and people came and decorated it and chatted. It ended up almost like a really relaxed party.
Then, the sparkler situation: her son wanted everybody to hold sparklers and form an arch for the coffin
to come through. We didn't know how many people would be there, so we brought storm lanterns to make sure that they'd all stay lit while the coffin was carried, and made it work – it was beautiful.
Later, at the natural burial ground, the family and friends wanted to fill in the grave. We were playing music, and suddenly Bob Marley 'One Love' started playing and everybody just – without thinking –  just grabbed the hand of the person next to them. It was one of those heart-stopping moments, on the hillside with the sun shining.
Another [memorable funeral] was my mother's last September, which was again at the natural burial ground. We danced salsa, we read poetry, we sang songs, we performed Shakespeare all around the grave and we toasted her with gin and tonic – did all these things that she would have loved. It was very different, but it was nice to be able to do that because they were the kinds of things she liked and loved to do.
You and Carrie are very active in your local community – what's coming next for you?
We're founding members of BrumYODO, a local community collective that creates spaces for people to be able to talk more openly about death and dying. Last year, we put on a festival In Birmingham with workshops, debates, shows and art experiences. We had funeral food, a wicker coffin weaving workshop, a multi-faith panel discussion.
The idea was that people could get involved [in a conversation about death], but in a way that's a bit softer, and less clinical. We'll be doing it (or something similar) again this year in May.
We'll watch this space! Thank you, Fran.
This interview has been edited for clarity. A Natural Undertaking is an independent funeral service based in Birmingham. To find out more about Carrie and Fran, check out their Beyond profile here. For the latest news on BrumYODO, visit their website at www.brumyodo.org.