Burial costs up

20%

nationwide in just three years

Cremation fees see

17.6%

increase over same period

Prices of other goods have only risen 7.67% in that time
The spiralling cost of dying is rising twice as fast as the cost of living, funeral services comparison site Beyond reveals today, as funeral prices surge ahead of inflation.
While the cost of living has increased by a cumulative 7.67% since 2015, the average price of burials has risen by 19.9% – almost three times as much. The national average price of a burial plot is now an eye-watering £1,838.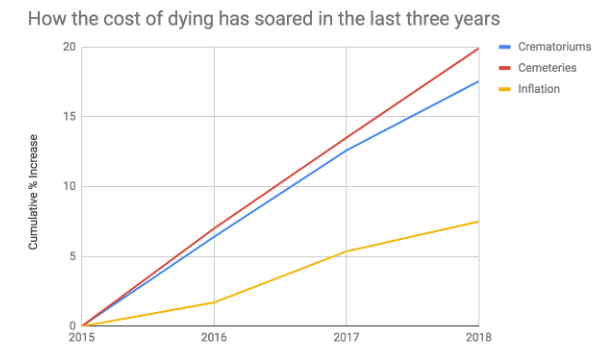 It is a similar story in the cremation market, where fees are up by 17.6% over the past three years. With cremations now accounting for close to 80% of all funerals in the UK, and with close to half a million deaths each year, this is big business. The average price for a cremation is now £784, with some crematoriums charging as much as £1,070.
How average funeral prices have continued to rise:
| | | | | | |
| --- | --- | --- | --- | --- | --- |
| | 2015 | 2016 | 2017 | 2018 | Total % increase |
| Crematoriums | £667 | £713 | £751 | £784 | 17.54% |
| Cemeteries | £1,533 | £1,631 | £1,740 | £1,838 | 19.90% |
It has never been more expensive to die, with funerals commonly now reaching £5,000 or more once all additional costs such as cars, coffins and admin fees are included. Beyond's research raises concerns that a lack of competition is driving prices higher.
Private funeral services firm Dignity run 19 of the 20 most expensive crematoriums in the country, with a direct correlation between an absence of competition and the ability to impose higher prices on grieving relatives with no other options.
Unsurprisingly, London is home to the UK's most expensive cemeteries with land prices in the capital at a premium for both property and burials. However, it is Wales and the South West that have seen the sharpest hikes in the last 12 months, each with 12% increases for average burial prices in just a year.
James Dunn, co-founder of Beyond, comments:
"The numbers of people dying each year is fairly predictable to it's staggering to see the cost of dying race ahead of the cost of living by such a margin.
"Funeral prices in this country are not something that we particularly enjoy talking about and that means awareness of the relative value presented by providers is low.
"Providers are going unchallenged and consumers are not being well-served by the market, which lacks a great deal of competition. The Government has to get a grip on this escalating costs."