Most of us plan on making a will – one day. One of these days, we think. One, far-off day, when we have a bit of time free, and nothing better to do. I should really get on that.
But every year, thousands of us die without one. 60% of Brits don't have a will. And while that number dwindles as we get older, the consequences of dying without a will when you're young can be, in a way, even more devastating.
Alex and Nic's story
In 2018, Alex and her husband Nic were starting a family. A "typical London couple," the two of them had met online 10 years before, and had been married for 4. Now settled into their own home, they'd started planning for a baby. But all that was derailed in an instant when Nic died of a pulmonary embolism.
He was just 39.
"You don't expect someone of 39 just to drop down dead," Alex says. "He just died very, very suddenly." Nic had a blood clot in his leg, which travelled to his lungs and became a fatal pulmonary embolism. The condition often strikes out of the blue, and rapidly becomes deadly. Sufferers can be almost any age.
"My whole world exploded," Alex says. "A decade's worth of building a life, of hopes and ideas of what the future will be, was just ripped apart."
"You don't think the worst is going to happen to you, but, actually, it does happen."
Nic hadn't made a will. While the two of them had discussed it – the latest conversation being just a week before Nic's death – the task hadn't been high on their to-do list as future parents.
"Life just gets in the way, and you never think it's that urgent, do you?" Alex explains. "Most of my friends are in their mid-30s, and they have kids, and they don't have a will. Now, I try to tell people: 'You don't think the worst is going to happen to you but, actually, it does happen to people.'"
With Nic gone and no will, Alex had the heartbreaking task of trying to guess what he would have wanted. A funeral had to be planned; Nic's belongings had to go somewhere; their home, with its mortgage, had to be accounted for – and all without any instructions. It was hard.
"You're doing your best, but you don't actually know if it's what the person would have wanted."
"Telling institutions that, as a spouse, you're entitled to this, that or the other is tricky, because it's not clear what he wanted, necessarily," Alex says.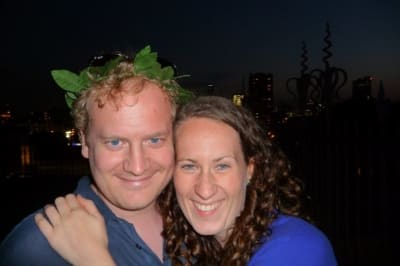 That lack of direction hit hard on an emotional level, as well. For Nic's funeral, Alex wanted a cremation with a Humanist ceremony, like their wedding – while some of his family would have preferred a Catholic ceremony.
In the end, Alex chose the Humanist option. But that was "based on a gut feeling," about what Nic would have preferred, she explains. "And that feels terrible, because you're doing your best, but you don't actually know if it's what the person would have wanted."
"I guess people get too upset to talk about these things because they don't want to think about their death. But it meant that I was angry with him for a while, because he was disorganised – and he should have prioritised this aspect of our lives."
"You don't want to debase what you're feeling by talking about money."
The lack of will wasn't the only issue. Nic had a pension, but as it was set up before Alex and Nic were together, the beneficiary was his mother. The pension provider refused to make a change that would recognise Alex's arguably greater claim as Nic's spouse, only eventually compromising on a 50-50 split. Alex and her mother-in-law had to agree a final, much fairer, settlement between themselves.
"Luckily, you know, she's an incredibly kind woman and she was happy with that," Alex says. "But not everyone would have done that.
It's a terrible thing to think about at a moment in your life when you're grieving, and you don't want to debase what you're feeling by talking about money."
In the end, Alex was saved a lot of hardship by something almost incidental. While Nic hadn't made any provisions just in case something happened to him, his workplace had a 'death in service' policy that meant that she received enough money to pay off a lot of the mortgage.
It could have been much worse, she admits. "We were just at a point where I was getting ready to be pregnant and to be way more reliant on him financially. I'd already taken a slightly less-stressful job, and all of that stuff that women do. And yet he didn't have a will or life insurance. It was just sheer luck that he worked for a company that had good employment benefits."
"I consider myself lucky."
Alex's status as Nic's wife also meant that under intestacy law, she could inherit most of his estate. Other bereaved partners aren't so fortunate.
"We were married, and so I had a certain level of legal protection, even if we hadn't got around to doing a will," Alex says.
"I've heard stories from people who weren't married to their long-term partner, and so their partner's parents came and took away X, Y or Z amount of money, or whatever they could take – and they're not even considered the next-of-kin. My heart goes out to them, because it all gets much blurrier.
"I miss Nic more than I can say. But I still consider myself lucky, because it could have been so much worse."
A year and a half on, Alex is finally in a better position, at least, financially. But she has some advice for those who are putting off making their wills: "Stop procrastinating and get on with it! And have honest conversations with your friends and family. Even if he'd told his mum what he wanted, but not me, I wouldn't care.
"Obviously, you should formalise it in a will, but just writing down anything about what you want will make a difference. Just get on and do it."
Make a will today
Ready to make your will? Click here to use Beyond's online will service. It takes just 15 minutes to protect your loved ones and get peace of mind.
---
Do you have a story to tell?
Have you struggled because someone close to you died without making a will? We would love to hear from you. Contact our team at [email protected] to tell your story.