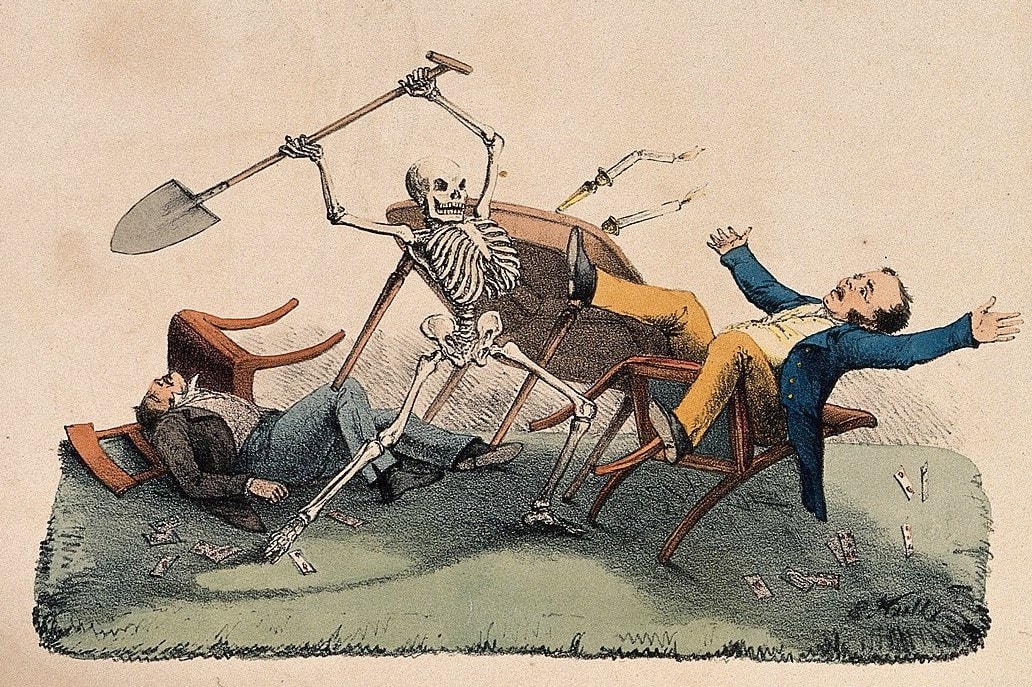 Death! Suffering! Elaborate old-timey insults! Sure, you can make a will for nice, kind reasons. Support your family. Choose a home for your cat. Give to charities. But why do that, when you can settle some old scores? Stay tuned for five wills that served up a revenge as cold as the grave…
1) The legacy of bitterness
Michigan lumber tycoon and owner of a pun-worthy name, Wellington Burt died in 1919 with a hefty fortune under his belt (or should we say, tucked into his Wellington Burts?). A multimillionaire philanthropist in life, Burt was expected to make his family and his town very wealthy indeed upon his death.
But it wasn't to be: reputedly smarting from a nasty family spat, Burt instead left the bulk of his fortune in a trust fund, not to be opened until 21 years after the death of his last grandchild. 
As the years went by, Burt's six children, seven grandchildren, six great-grandchildren and 11 great-great grandchildren have all died without seeing a penny. Meanwhile, the trust fund has grown to an estimated $100m. Relatives who finally inherited in 2011 described it as a "legacy of bitterness," having watched family members pass away still fruitlessly hoping to claim that fortune.
2) The final regret
For 15 years, German essayist and poet Heinrich Heine had a very volatile relationship with his wife, Mathilde. But when he fell ill, she stayed at his bedside to the very end – and received a somewhat ambiguous reward.
Heine left Mathilde a legacy, alright, but only if she remarried. His reasoning? "Because then, at least one man will regret my death." Ouch.
3) The father-in-law's revenge
Son-in-laws: can't live with them, can't guilt someone into putting shelves up around the house without them. In 1908, Garvey P. White's used his will to take a parting shot at his daughter's unfortunate husband:
"Before anything else is to be done, 50 cents is to be given to my son-in-law to enable himself to buy a good strong rope with which to hang himself, and thus rid mankind of one of the most infamous scoundrels that ever roamed this broad land or lived outside a penitentiary."
One has to wonder what the son-in-law did to deserve it.
4) The bells, the bells
Another disgruntled husband here: Colonel Charles Nash used his will to leave an annuity of $50 to the bellringers of Bath Abbey. 
But there were conditions: the bellringers had to clang out a mournful funerary toll on the anniversary of his marriage. They also had to ring the bells merrily on the anniversary of his death – celebrating his liberation from married life.
5) The deadly legacy
In the wrong hands, a will can be a dangerous thing. One Munich-based gentleman had a seemingly harmless stipulation in his will: the wake had to be held in an upstairs room of his house. 
But when family and friends arrived and gathered around the coffin, the entire floor came down – killing almost everyone present. It later turned out that the man had painstakingly sawed most of the way through the beams of his house. Perhaps he didn't want to be seen dead in their company.
Make your own vengeful will today
Have your own score to settle? You can make a will today on Beyond in just 15 minutes. It costs just £90, or £135 if you and your partner would like to plan your vengeance together. Start making your will today.
Don't forget! Pay 20% more for your vengeful will using the offer code VENGEANCEISMINE at checkout – you big meanie.