"'Tis the season to be jolly" – but if you're grieving, the very idea of Christmas can be daunting. Untangling the Christmas tree lights, filling stockings, pulling crackers together: all the little family rituals of the season can stir up bittersweet memories, while the festive feeling everywhere can be isolating. The whole world is celebrating, and you'd … rather not.
If the prospect of spending Christmas without a loved one is filling you with dread, it can help to make a few plans and resolutions for the day. With the aid of Naomi and Steve Game-Blackmoor of Holding Dear, a service offering professional therapeutic support to the bereaved, we've put together some ideas for those coping with loss at Christmas.
How to cope with Christmas after a bereavement
Everyone grieves differently, so there's no one-size-fits-all approach to coping with grief at Christmas. Take what you need from the tips below, and leave anything that doesn't speak to you.
1) Remember that it's okay to be sad – or happy
A lot of bereaved people struggle with sad thoughts at Christmas, but feel under pressure to "put on a happy face" for their friends and family. Others find a lot of happiness while celebrating, but discover that the idea of enjoying Christmas without a loved one there fills them with a kind of guilt.
Steve and Naomi say that it's important to remember that there's no right or wrong when it comes to how you feel. "Honouring how we feel is very important," Steve explains. "Pretending we feel differently just to please everyone else is often unhelpful.
"We would want to reassure [someone who is bereaved at Christmas] that what they are feeling is perfectly normal and okay."
Remind yourself that it's okay to be happy, or sad – or, as is likely, a strange mixture of the two. You have a right to express those feelings, and not hide them away.
Don't be afraid to accept or ask for help if you need it, either from friends and family or from a bereavement professional. You don't have go it alone!
2) Make a plan for Christmas day
When you're struggling with grief at Christmas, it can help to make a plan for the day that will keep you occupied.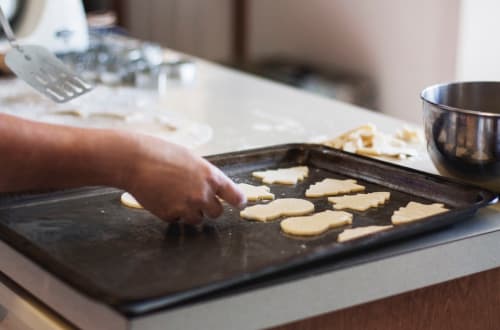 This plan doesn't have to be conventional. You could skip the traditional Christmas activities and go for a long walk with a picnic instead, for example, or join a park run or volunteer for a charity. You might spend some time in the evening calling up old friends to catch up, cooking up a storm, or watching films under a big blanket. Don't be pressured into spending Christmas the way you "ought" to spend it.
If you want to be alone, Steve adds, that's okay too. "There can be a very substantial pressure on us to be around others at Christmas when we're not feeling up to it. We encourage people to give themselves permission to be alone if they wish."
If family and friends are uncomfortable leaving you alone at Christmas, make it clear that this is what you want. Ask them to call you at some point during the day to check in, instead.
3) Find ways to remember the person who has died
A lot of bereaved families find it comforting to commemorate their loved one by bringing them into their Christmas celebrations in some way.
As Steve explains: "There need be no grand gestures – just simple gestures, but which never the less, serve to include our loved-ones in the festivities. These gestures could, over time, become a family custom and tradition."
Some ideas for remembering loved ones at Christmas might be:
Visiting their grave, or the place their ashes were scattered
Lighting a candle for them
Raising a glass to them at dinner
Playing their favourite music
Sharing stories about them with each other
Cooking their favourite festive snacks
Writing them a letter
Naomi adds that such small, familiar rituals helped after she lost her daughter Katie: "During Christmas dinner, it has become a tradition for us to light a candle on the table and to have a flower arrangement close by.
"We feel that Katie continues to be a very important part of the season, and these traditions have helped us to cope with her loss, particularly at Christmas."
A lot of funeral directors hold annual gatherings or church services for remembrance at Christmas. Ask the funeral director who arranged your loved one's send-off if there is an event you can attend.
4) Look after yourself
We all over-indulge and over-extend ourselves a little over the Christmas period. Yet the late nights, the odd extra drink (or two, or four) – plus random mealtimes squeezed between shopping, cooking, and wrapping – can all take a heavy toll if you're already feeling low and run-down with grief.
Guidelines from the charity Cruse Bereavement Care stress that, even if you're busy, it's important to look after yourself when you're grieving. While the odd extra festive tipple can be nice, try not to rely on alcohol to make the day easier. Instead, it can help a lot to establish a good routine with plenty of sleep, regular meals and lots of relaxation. Make time for yourself.
5) Share your memories
When you're bereaved, the person who has died is never far from your thoughts – especially at Christmas. So, why not share your memories of them with the people around you? Rather than "spoiling the mood", you're likely to find that it opens up space for friends and family to share their memories, as well. This can be very comforting, Steve and Naomi say.
"When visiting families to make the arrangements for the funeral ceremony, I encourage them to reminisce in all sorts of ways," Steve explains. "The act of remembering can be incredibly reassuring when we're grieving."
Remembering loved ones at Christmas can also be painful, and you may feel sad. But that's normal. By acknowledging your feelings, and expressing them, you and those close to you can help each other through the day.
You don't have to talk to friends and family about your loss at Christmas. For a friendly, impartial listener, try Cruse Bereavement Care's free helpline, which runs from 9.30am to 5pm, on 0808 808 1677. The Samaritans line is also open 24/7 at 116 123.
Spending Christmas without a loved one can be hard. But, over time, the day can take on new meaning, as a way to honour them and celebrate the happiness you shared with them. Just remember to look after yourself, and to go easy on yourself, too: there's no right or wrong way to get through the day.
Steven Game-Blackmoor is an award-winning ceremonial officiant and grief therapist working in Staffordshire, where he works with other professional psychotherapists and counsellors to offer pastoral support to people who are grieving.
Naomi Game-Blackmoor is the author of 'There's No Place Like Home,' a book for parents who have lost their child. A trained psychotherapist, she has worked alongside grief specialists and organisations since losing her daughter Katie, in 2003, and has recently joined the funeral industry.
You can find out more about Steven and Naomi's work with the bereaved at the Holding Dear website.