Christmas is a time when families come together to enjoy the festive season in the company of their loved ones. However, for those who have experienced a loss during this period, Christmas can be especially difficult to navigate.
An understanding funeral director can make all the difference – but what kind of support can funeral directors offer grieving families at Christmas? For this month's Featured Funeral Director, we brought this question – and a few other tricky issues – to Johanna Loveridge, founder and director of Albany Funerals, to learn from her expertise.
Hi Jo. How did Albany Funerals get started?
I started Albany Funerals ten years ago after running a care home for some time. Back then, dealings with local funeral directors often fell short of our expectations, and they seemed old-fashioned and set in their ways; ultimately, we noticed that they weren't really catering for people's changing needs.
Our goal was to bridge this gap by doing it ourselves. In close consultation with expert staff, we combined their know-how, and our vision, to create a more forward-thinking and family-centred approach. The last decade has seen Albany Funerals grow in size and confidence: we are now one of the top independent funeral directors in our area and have been recognised nationally with several awards.
How does Albany Funerals support local families at Christmas?
Christmas time is a huge hurdle for people when someone they love has died, particularly the first year. We always try to encourage our families, past and present, to make it a time of remembrance. We send them beautiful stars, which they can personalise with written messages, to hang on our tree of remembrance – or on their own tree at home, if they prefer.
Over time, so many people were coming in to hang their stars on our tree in the lead up to Christmas that we thought it would be a positive idea to start working with families in order to 'give something back' to the community at large. The obvious choice for us was to help deprived children and young people, and so we began by teaming up with the charity, Young Lives Foundation. For the last seven years, we've asked our customers to bring in a Christmas present for a child, if they wanted, and have since collected hundreds of beautiful gifts for local children.
We regularly get calls in November from people keen to find out when we are sending out the stars, or for suggestions on what they should buy for the kids; many families really treasure this moment. The charity is so grateful to all our families and have told us that it really makes a huge difference.
For many people, Christmas is all about 'home'. Is creating a homely environment for families important to you?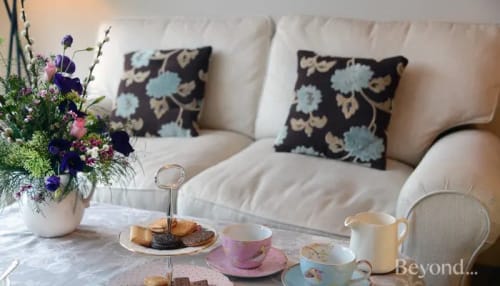 When we first started Albany Funerals, my number one priority was to create a peaceful space that felt light, airy and homely. I didn't understand why so many funeral directors opted for dark Victorian or corporate decors, with swirly wallpaper, gravestones and coffins on display. I knew that opting for a different environment would be crucial in putting people at ease when faced with having to organise the funeral of their loved one.
And it seems that we made the right choice: practically everyone remarks on how comfortable they feel in our premises. Albany's decor is very similar to that of my own home, with lots of personal touches. I wanted there to be virtually no distinction between a work and a home space, and that's hopefully what comes across to people.
The CMA's recent report exposed many differences between independent funeral businesses and the larger corporate chains. But what do we mean by 'independent' when we talk about funeral directors? Is it a matter of size, or something else?
Independent funeral directors share the principles of many other small businesses when compared with the huge corporations. For example, if you go to the local corner shop, you might pay a little more for a tin of baked beans and a loaf of bread than if you shopped at one of the big supermarkets. But you are then also more likely to get a personal service, too – a smile or a chat – and they might even help you carry your shopping to the car.
When it comes to funerals, however, there is often a whole host of benefits to choosing an independent: better trained staff; no sales push towards having a certain type of funeral, coffin, caskets or flowers; and, perhaps most importantly, you will often find that your bill is significantly lower.
To be 'independent' means that we are not ruled by financial directors who are only interested in the 'bottom line'. Sadly, most people have no idea what to expect from a funeral director, as they will only use them once or twice in their lifetime, and even fewer do any research prior to the time of their need.
What advice would you give to families affected by a bereavement this Christmas?
Over the last ten years we have found that when someone pivotal in the family is missing, there follows a knee-jerk reaction to cancel Christmas, as it's often deemed too painful to carry on. What we try to do is encourage families to find ways to change what they would normally do over the Christmas period, such as spending the time with different relatives or going to different places, or even finding new traditions to replace some of the ones that trigger more painful memories.
I think most people find this hugely comforting because friends and family often don't know what to say to someone who is grieving, and therefore typically end up not saying anything at all. Family members can be left feeling like they cannot talk about their grief and the person they miss.
The emphasis should never be placed on forgetting their loved one, but instead on finding new ways of coping without them – and key holidays are a big part of this. As mentioned earlier, we introduced the tree of remembrance and the stars as part of this process, which we find empowers families to celebrate those they have lost.
Albany Funerals is an independent funeral directors supporting bereaved families in Kent and the surrounding area. You can find out more about them on the Albany Funerals Beyond profile.