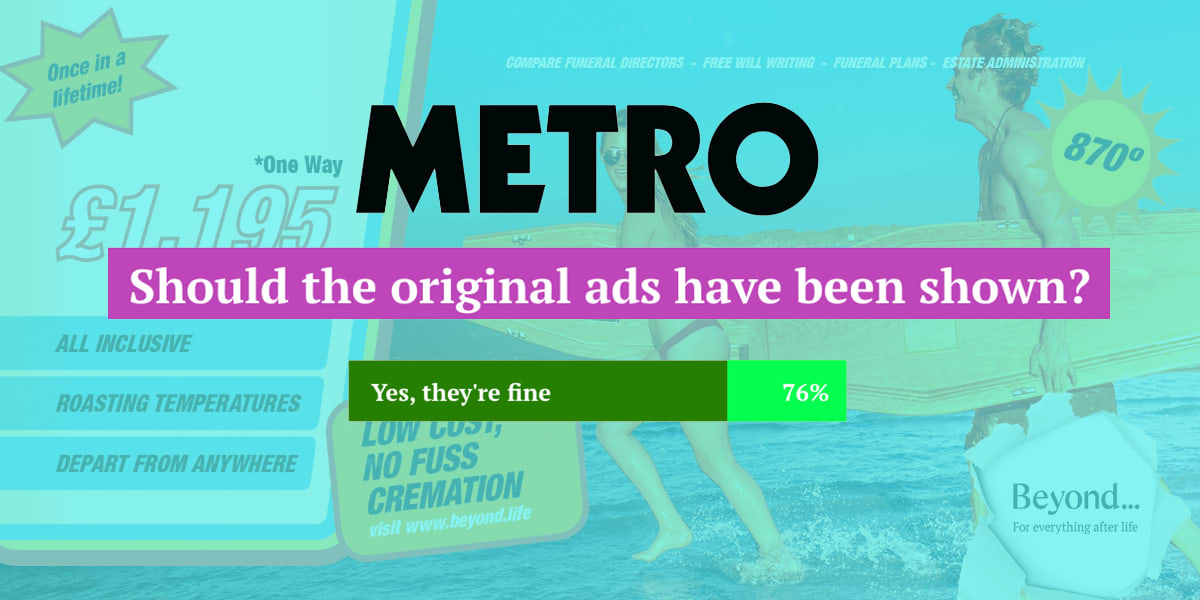 The last few days have seen a media frenzy engulf us here at Beyond, at least when compared with our usual sedate existence.
You may have seen our banned adverts covered in major newspapers, online, on TV, radio and even across the Atlantic in the New York Times.
And we've been overwhelmed by the support we've received from the public. The Metro encouraged thousands of people to take part in an online poll and 76% of them voted in favour of the adverts being shown.
Because of the exposure, in the last 48 hours alone, hundreds of people have created their will online with us. All for free, raising several hundred thousand pounds for charity through legacy gifts.
There has been so much positive feedback on social media and we have been touched by the people who have taken the time to email us with kind messages, such as these:
"I very recently lost my brother who left no estate, meaning his siblings paid for his funeral. I felt very uncomfortable shopping around to get a decent funeral at an affordable price. Funeral services should be competitive, open and a subject we are all comfortable with. There is one sure thing in life: we are all going to die at some point and planning for that event should be an integral aspect of life. Any light relief at such a time helps. I love the adverts, they are funny, and could be a trailblazer in helping bring the cost down."
"I'm 80 and no doubt will need your services sometime, but hopefully not soon….!!! However, I have just read your funeral advert banned by British Transport, with two people running to the beach with surf boards shaped like coffins etc., and just had to send this message to say I think it's great and certainly raised a laugh for me. Don't be put off by their stuffiness and produce a few more adverts with the same sense of humour."
We're delighted with the exposure that the adverts have received, however I'm aware that not everyone agrees with our approach, and of those who do, not all of them have been exposed to the reasoning behind the adverts and what we are trying to achieve.
As I expand on in the blog article and TV appearance below, when something is taboo, as with death, it creates an environment where bad actors can operate. And our fear of engaging on the subject – creating that shared code of silence – allows predators to rip us off. We pay too much for funerals, funeral plans and wills because we don't feel able to shop around. Companies can charge us exorbitant fees because we don't compare, we don't negotiate, we don't feel empowered to take control.
So, I would encourage you, whether you are supportive or not, to read, watch and listen to the below links and to perhaps appreciate a little more why we feel it is vitally important to spark a conversation about death in this country.
Read here why we designed the adverts: Let's talk about death
Watch me discuss the adverts on The Victoria Derbyshire show, BBC2: Appearance on Victoria Derbyshire Show
Listen to me discuss the adverts on TALKradio with Jamie East and Trisha Goddard: Appearance on Talk Radio
And finally, I want to take a moment to recognise that not all funeral directors are out to get you. We have hundreds of wonderful independent funeral directors on our website, who are committed to transparency of pricing and service quality. Every day they do a fantastic job, taking care of bereaved families up and down the country and they deserve our praise for being the bold and brave of the industry, leading by example.
Thank you for your time
Best, Ian