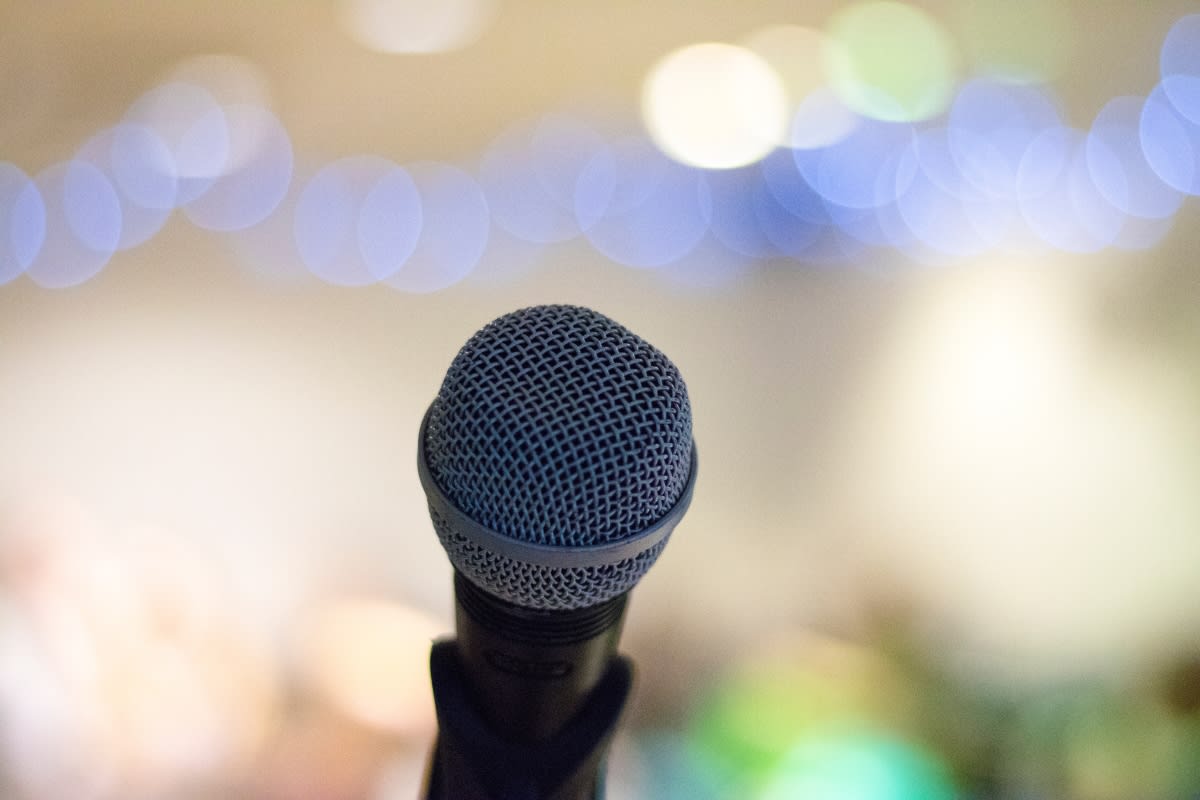 Writing a eulogy is widely (and perhaps rightly) thought of as one of the most difficult tasks out there. Not only does it involve public speaking, but it asks you to communicate how you feel about a loved one at a time when your emotions can be overwhelming. If you've been asked to deliver a eulogy, you might be feeling understandably nervous about the whole thing.
Don't worry. We've put together some eulogy examples to show that you don't have to be Shakespeare to put together a powerful, moving speech.
6 of the best eulogy examples to watch for inspiration

Remember, eulogies don't have to be that long to be great, and you certainly don't have to stop yourself from crying. If you're struggling for words or you're not sure where to start, here are some long, short, and even funny eulogy examples to get you started.
"He got me ready to be a strong, upstanding man."
No two people get on one hundred percent of the time. If you're looking for eulogy examples for a father, this speech about a man who spent some years "butting heads" with his son is a heart warming place to start. By acknowledging that history of conflict in this short, witty eulogy, the son tells the story of how it ultimately strengthened their relationship and helped him be a better version of himself.
"I want my father's memory to help you and others."
Here's one of our short eulogy examples for a father who always kept his promises. Not only has this man picked out a positive character trait and focused on that, but he's also used it to spark action and conversation among the other people attending the funeral. His father's memory will inspire guests to follow through for their own loved ones.
"We were the light of her life, and she let us know it 'til the end."
"I know it may sound greedy to want more days with a person who lived so long, but the fact that my mother was 92 does not diminish, it only magnifies the enormity of the room whose doors have quietly shut."
Not all of us will be lucky enough to have someone who can eulogise us on national television, but this tribute from American comedy legend Stephen Colbert is a fine eulogy example: a mother who taught her children to sing, dance, and pray in German is commemorated briefly but beautifully in his speech, which you can read in full here.
"She was my first teacher."
In one of our longer funeral eulogy examples, a mother who believed in making things work is touchingly remembered. This feels like a complete picture of the person who's died: someone vivacious, entertaining, community-minded, and endlessly resourceful. If you have the time, you can take it to show as many aspects of your loved one as you can.
"She had some trouble with technology."
Good funny eulogy examples show that you don't have to tell a long, complicated story with a setup and a punchline to get your audience chuckling – sometimes, just a phone call is enough. In just under four minutes, we learn that the person who's died was intelligent, sweet, and caring, but she's also left some laughter behind.
"That's the kind of man I want to be."
"Show, don't tell" is good advice for eulogies as well as fiction. In this often funny, always touching eulogy example, a grandson describes his grandfather through a series of anecdotes that perfectly describe a man deeply loved by, and devoted to, his family.
If you can learn anything from the funeral eulogy examples you've seen here, let it be this: eulogies can be sweet or sharp, funny or sad, or all of those things at once – but they're at their most effective when they're spoken from the heart. Start with honesty, and mould it from there.
And now for something completely different.
When asked to eulogise his friend and colleague Graham Chapman, John Cleese realised he had a vitally important duty to carry out: to be the first person to drop the F-bomb at a British memorial service. We're not suggesting this as a template, but think of it as some light relief as you search for a eulogy sample that inspires you.
For more funeral arrangement inspiration, check out our Advice Centre here.
---
Have you delivered or heard a great eulogy? We'd love to hear from you. Tell us all about it in the comment box below.