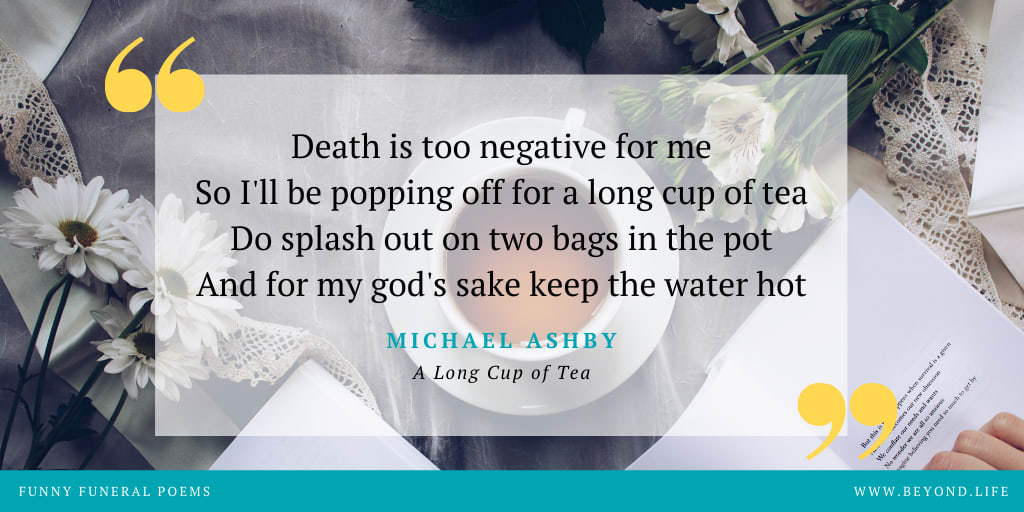 'Funny funeral poems' might sound like a bit of a contradiction. But humour isn't always out of place at a farewell. When we celebrate someone's life, we celebrate all of it, all of the best things about them — and that can mean laughter as well as sadness.
Here, we've gathered together 10 popular funny funeral poems to inspire you. We hope you'll find something your loved one would have giggled at.
---
There's puns galore in this poem by Kelly Roper, writer and hospice volunteer. It's a popular light-hearted reading, especially in funerals for people who were always taking care of others.
Told from the perspective of someone who has died, Pardon Me For Not Getting Up asks funeral guests to excuse them from hosting this time — and asks them to go ahead and celebrate their life nevertheless.
---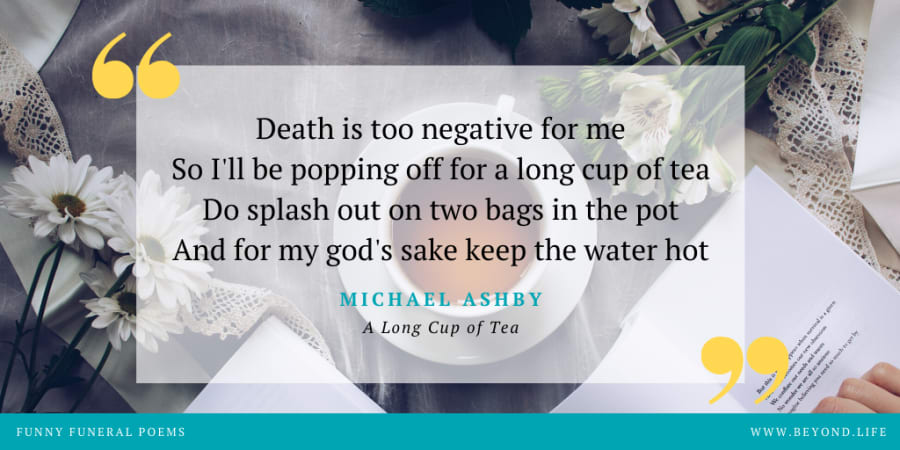 Is this the most British funeral poem of all time? Perhaps. Full of sly jokes ('Please pick the biggest mug you can find / Size really does matter at this time') Michael Ashby's funeral poem is perfect for someone who loved to kick back with a cuppa. And who doesn't?
---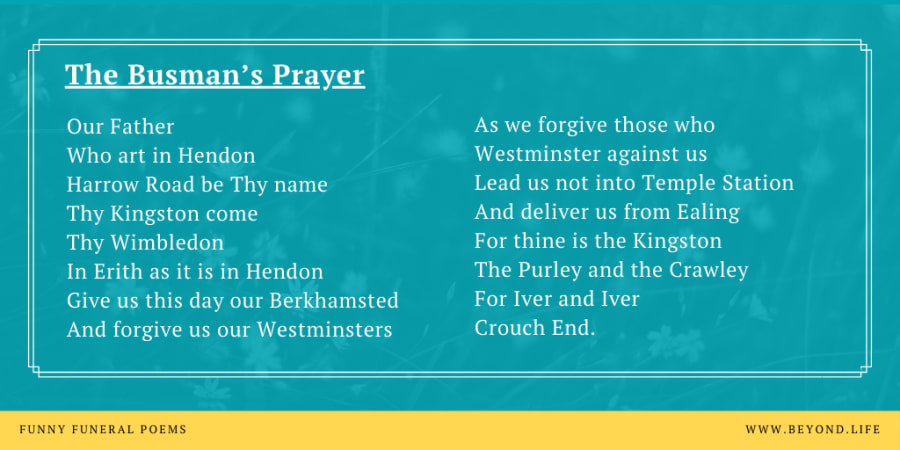 This parody of the Lord's Prayer is one of the more original non-religious funny funeral poems. The version here is ideal for born-and-bred Londoners, but there are also versions for retired policemen and women ('The Law's Prayer') and people in Derbyshire around.
You can, of course, also write your own. Simply swap out the London locations for local landmarks with a similar sound.
---
Death by Joe Brainard
This wry, matter-of-fact poem by Joe Brainard has a lot of simple truth in it. And some very black humour. Noting that visualising death might help us not to be afraid, he adds:
"Try to visualize, for example, someone sneaking up behind
your back and hitting you over the head with a giant hammer."
If your friend or relative was a straightforward sort of person with an appreciation for the darker variety of jokes, this could be the one.
---
Warning by Jenny Joseph

This playful and funny funeral poem is all about how old age can be liberating — and how we'd act if we could just please ourselves all the time. It's a wonderful funeral poem for anyone who spent their later years living life to the full.
It's also an excellent message for us all: don't let respectability get in the way of doing all the (silly) things that make you happy.
---

This anonymous poem has something of a dark backstory. But it's now one of the nation's favourite comic poems.
In it, the reader explains that after a lifetime of hard work, she's actually looking forward to a restful eternal sleep. This makes it one of the more fitting funny funeral poems for a friend or parent who was always busy looking after their family.
---
Untitled jisei by Moriya Sen'an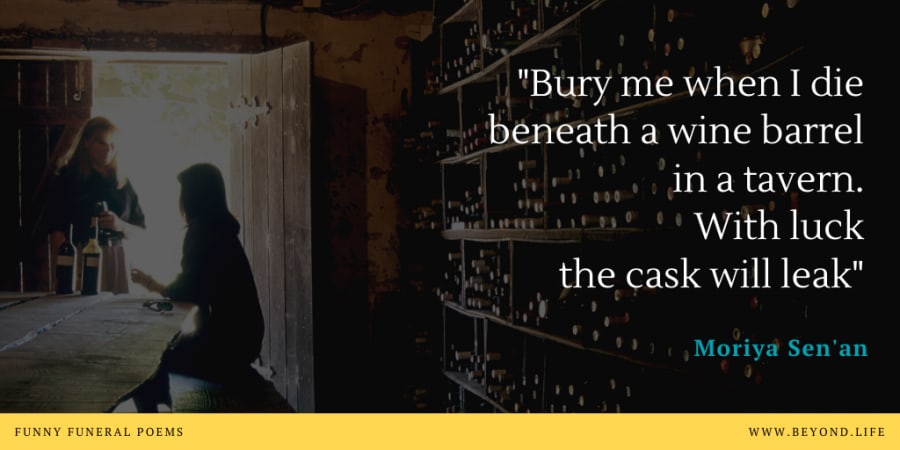 For some time, it was traditional in Japan for some people (the elite, samurai and monks in particular) to write short poems shortly before their death. Many of these jisei are beautiful and contemplative. Others, like this one, are comically frank and can have a place in funny funeral speeches.
---
Death by Sean Hughes
This poem, which describes Sean Hughes' idea of a good funeral, is ideal for any 'celebration of life' style funeral service.
With free drinks and new friendships being forged, it actually does sound like a great way to send someone off. The poem was in fact read at Hughes' own funeral.
---

In this quietly comic poem, the narrator explains why he skipped church that morning: the day was too beautiful not to spend at the beach. It's a sweet piece about appreciating a perfect moment.
Although light-hearted, the poem does have comfort for those at a funeral. As Nash shares, God will likely understand. After all, 'He knows when I am said and done / We'll have plenty of time together'.
---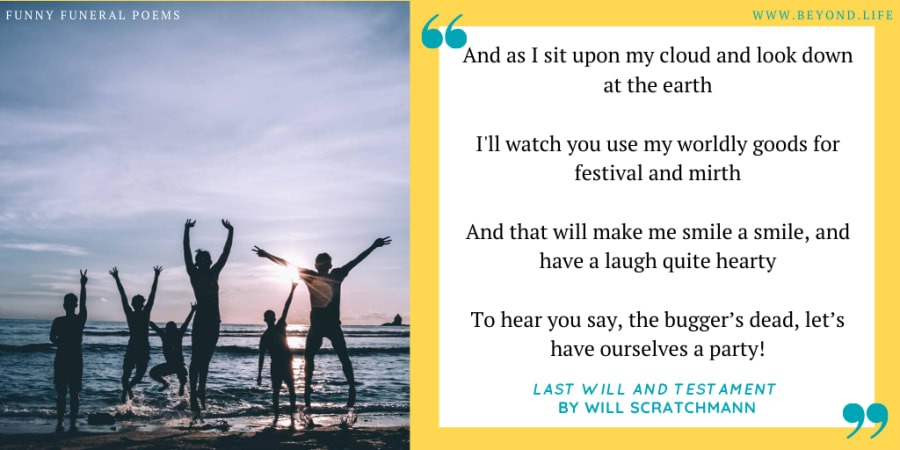 This short-but-sweet piece by Will Scratchmann could be a funny funeral poem for a dad. But behind the humour is a positive message about what we want for our loved ones after we're gone. Not a lifetime of sadness, but a lot of joy (and parties!) in time.
---
One last note on funny funeral poems…
Giving a 'funny' reading at a funeral can be a bit nerve-wracking. What if it goes down badly? The best thing to ask yourself is what the person who has died would have thought. Does the poem sound like them? Is it something they might have found funny? After all, the day is all about them. And if you need advice on public speaking, take a look at our top tips from funeral celebrants.
Didn't find the right funeral poem today? Not to worry. We have a round up of 33 beautiful non-religious funeral poems here to help you in your search.