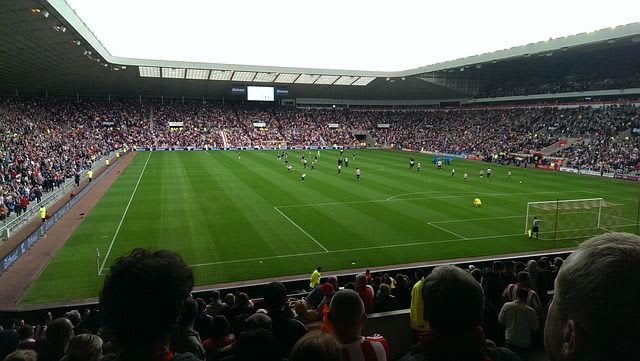 As personal funeral services become more common and people begin to step away from the traditional black dress, hearse and hymns approach that we've come to associate with funerals, it's interesting to look at how hobbies, interests and passions have become more of a focal point. A perfect example of this phenomenon is football.
Football is a sport that plays a major role in many people's lives across the country, so it's only natural that some families choose to incorporate a football theme into a loved one's funeral service. Here we take a look at how to plan a funeral for a football fan and what you can to do to make it a really special occasion.
Wake at a stadium
More and more football clubs are beginning to offer their hospitality facilities to fans for use as a wake and memorial service venue. Many offer a catered service where friends, family and well-wishers can gather together to celebrate the life of a loved one in a meaningful space. Though this is by no means an exhaustive list, clubs such as Brighton and Hove Albion, Everton Football Club and Norwich City Football Club, all have spaces to hire for this purpose. If you want to remember the deceased somewhere they enjoyed visiting, there could be no better place than their own club's ground.
Match day programme
It's usually possible to contact those in charge of producing your local club's match day programme to see if they're able to dedicate a little space to the memory of the deceased. Often, they're able to edit in a short message, include a photograph or even print a submitted piece of writing that details the important connection the deceased had with their club. It's also possible that they'll be able to suggest alternative ways you can honour their memory or put you in touch with other management figures at the club.
Transport and flowers
One of the more usual ways of personalising a funeral is by hiring different types of vehicle to transport the casket to the service. There are an enormous number of companies offering such a service, but Vintage Lorry Funerals stand out for their ability to provide bespoke funeral transport for a football fan. Though they theme their beautiful 1950 Leyland Beaver in a number of different ways, they often transport caskets backed by large football flower arrangements in the colours of a favourite team.
A memorial match
If the deceased loved to play football and was part of a five-a-side or full eleven-a-side football team, you may want to see if you can organise a match in honour of their memory. Even if it's just friends and family, it's a great way to remember the deceased and what they loved doing most. If you want to take it a step further, you could organise a fundraiser for a charity that was close to the deceased's heart, arranging food and drinks for after the match and asking for donations.