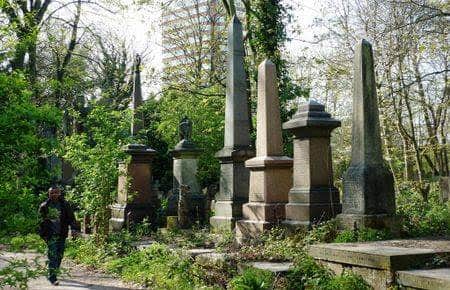 Not only can cemeteries be a place to reflect on life and death, they can form a historical record, revealing something of the times when they were first opened. The architectural choices, the kinds of people who were allowed to be buried there, and their placement within the grounds give a flavour of bygone times. London is home to several cemeteries, including the historic 'Magnificent Seven.' Most of these are no longer open for new burials, but each is beautiful in its own way and each has its own unique history. In a city as busy and built up as London it can be surprising to find areas that have seemingly been forgotten by the ages, ignored by the developers and often reclaimed by nature. Over the past 20-30 years, local trusts and charities have been founded to protect these astonishing places from disrepair, and to restore them to their former glories.
Find funeral directors in London.
London's Magnificent Seven – Background
In the first few decades of the 19th Century, it became clear that London's rapid expansion and growing population were responsible for a number of problems concerning burial practices. For centuries, the deceased had been buried in small parish churchyards, but this soon became unsanitary and dangerous, resulting in epidemics and health issues.
The government's response was to legislate for the opening of a number of private cemeteries outside of the city centre and seven burial grounds were developed over a period of ten years. These became the Magnificent Seven cemeteries, the most important and grandiose burial grounds in the capital.
Unless otherwise stated, all imagery comes from Wikimedia Commons.
Brompton
Founded in 1840, Brompton Cemetery is located in the Royal Borough of Kensington and Chelsea and is famed for being one of Britain's oldest and most beautiful garden cemeteries. With over 35,000 graves and a history of more than 205,000 burials, the cemetery memorialises dead from every corner of the world and is a diverse and intriguing glimpse into the history of the area and London as a whole. Many associate Brompton Cemetery with military burials, largely because the site was London's Military Cemetery between 1845 and 1939, and there are many notable military figures interned within its grounds. You'll find no less than 12 recipients of the Victoria Cross, Britain's highest award for military gallantry, buried within the grounds.

Kensal Green
Taking inspiration from the world famous Pere Lachaise Cemetery in Paris, Kensal Green Cemetery is located in the Royal Borough of Kensington and Chelsea and is well-known for its wide variety of graves, tombs, mausoleums and monuments. Based around a large central path that runs east to west and leads up to the cemetery chapel, the grounds were designed to separate dissenters (those belonging to non-Anglican denominations) from Anglicans and boasts a number of sections dedicated to different purposes and peoples. These include World War II graves, small graves for the very young, grand mausoleums for the rich and famous, and memorials to those men and women who attempted to reform society.

Highgate
Highgate Cemetery is perhaps the most famous of the Magnificent Seven and is particularly well-known for the large number of influential figures buried within its boundaries. Many people visit the site to pay their respects to a long list of icons that includes, Karl Marx, Malcolm McClaren, Ralph Miliband, Lucien Freud and Christina Rossetti. The cemetery incorporates around 53,000 graves into a 37 acre space and is divided into East and West sections, both of which enjoy a de facto status as nature reserves. Highgate cemetery is still open for new burial, and we recently revealed it as the UK's most expensive place to be buried.

Abney Park
Abney Park is located in Stoke Newington, in the heart of the London Borough of Hackney. Opened in 1840 as a non-denominational burial ground, the cemetery took its name from the Lord Mayor of London, Sir Thomas Abney, and pioneered a more inclusive and open type of burial site that attempted not to discriminate between those of different religious beliefs. Two of its most famous features include the Egyptian Revival entrance and the way in which it transformed the green space of an arboretum into a modern cemetery.
Nunhead
Though it's arguably the least known of the Magnificent Seven, Nunhead Cemetery is actually the second largest. Consecrated in 1840, the cemetery went through a period of decline and decay in the 20th Century, during which nature and local woodland began to reclaim the site. Nature's march was halted and then reversed in the 1980s and 1990s, when the Friends of Nunhead Cemetery began to renovate and protect the area, though it still retains a sense of unkempt wildness that makes it one of the most interesting cemeteries in the UK. A mere 10 minutes on foot away from the business and bustle of Peckham and Rye Lane, you'll find yourself in an area that's as wild as you're likely to get in London.

West Norwood
The southern most cemetery of the Magnificent Seven, West Norwood Cemetery encompasses 40 acres of catacombs, cremation plots, a lawn cemetery and a variety of monuments and mausoleums, as well as demonstrating some of the finest examples of the Gothic Revival style found anywhere in Europe. Founded in 1837, cremations still take place today, though all available burial plots are in use and, consequently, new burials are no longer possible. The cemetery is composed of two chapels, a Greek Orthodox enclosure, a crematorium, a war memorial and a number of well-known burial plots, including those of composer Joseph Barnby, inventor Sir Hiram Maxim and engineer James Henry Greathead.

Tower Hamlets
More commonly known as Bow Cemetery, the Tower Hamlets Cemetery is located in London's East End and was opened in 1841. Although originally very popular with locals, the cemetery quickly slipped into a steady decline that saw it neglected, overgrown and damaged over a one hundred year stretch. In 1986, the local Borough Council took over ownership and, with the help of organisations like The Friends of Tower Hamlets Cemetery Park, began to protect the area and its legacy.