Here at Beyond, we believe everyone has a right to an affordable funeral. We also believe that before we can make that right a reality, there needs to be price transparency in the funeral industry. It's why we do what we do: help people compare funeral director costs for free, online, with no obligation.
It's also why, when we heard that that Dignity Plc (the UK's second largest funeral chain) made a commitment in January 2017 to make their prices available online by January 2019 – that is, two years later  – we decided to step in.
We don't believe a company with Dignity's resources should need two years to put prices online. So, we've done the work for them.
What exactly have we done?
We spent the last few months of 2017 gathering and collating prices from 764 Dignity-owned funeral homes. And, as of today, we're including all of them on our funeral director comparison tool – alongside the 1,000+ independents who have already chosen to be transparent with their pricing.
Visitors to our site will now be able to see where Dignity branches are, what name the branch is using, and (most importantly) how much they charge compared to the independents in the same area. It looks something like this: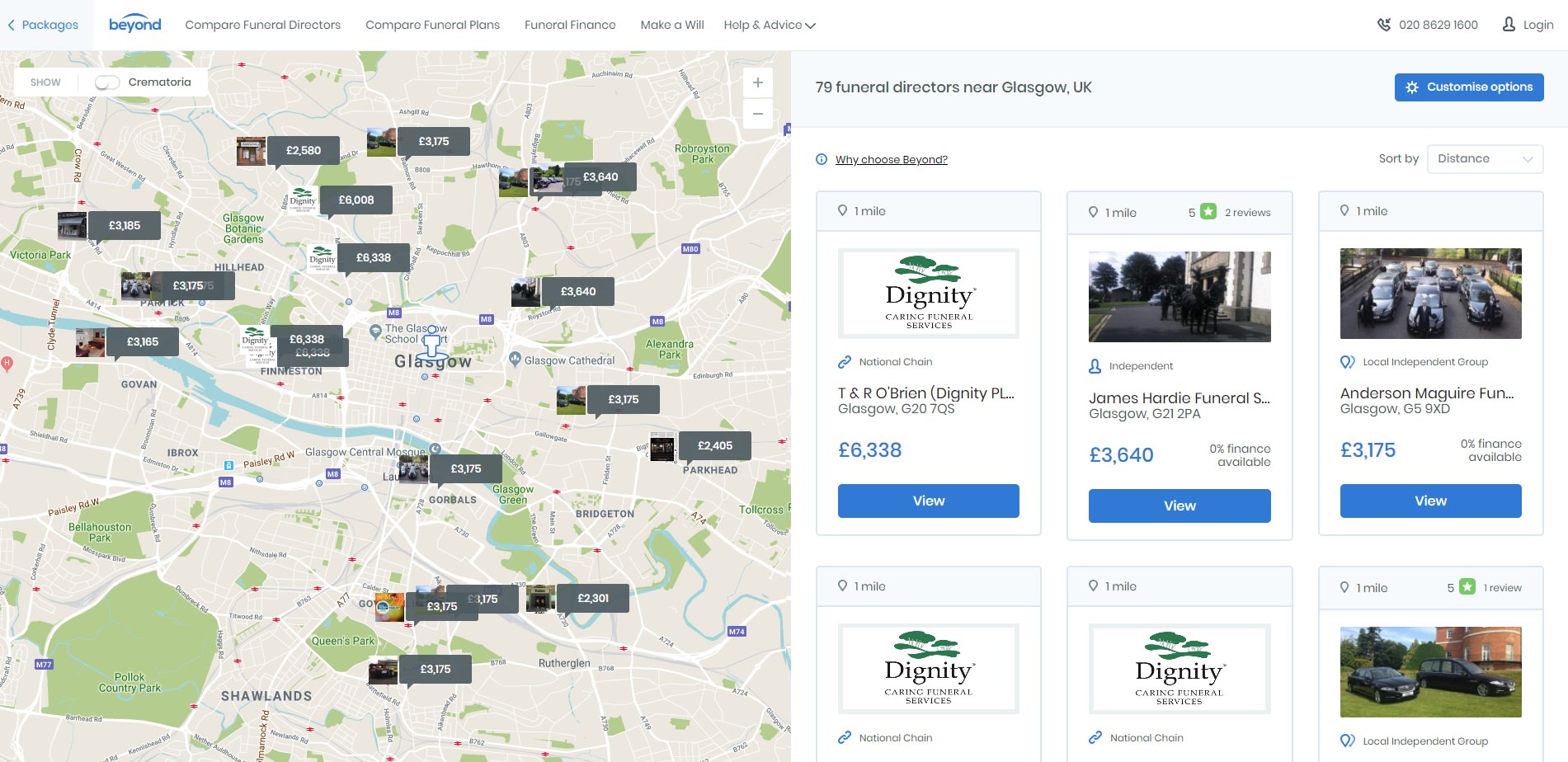 Or, to put it another way: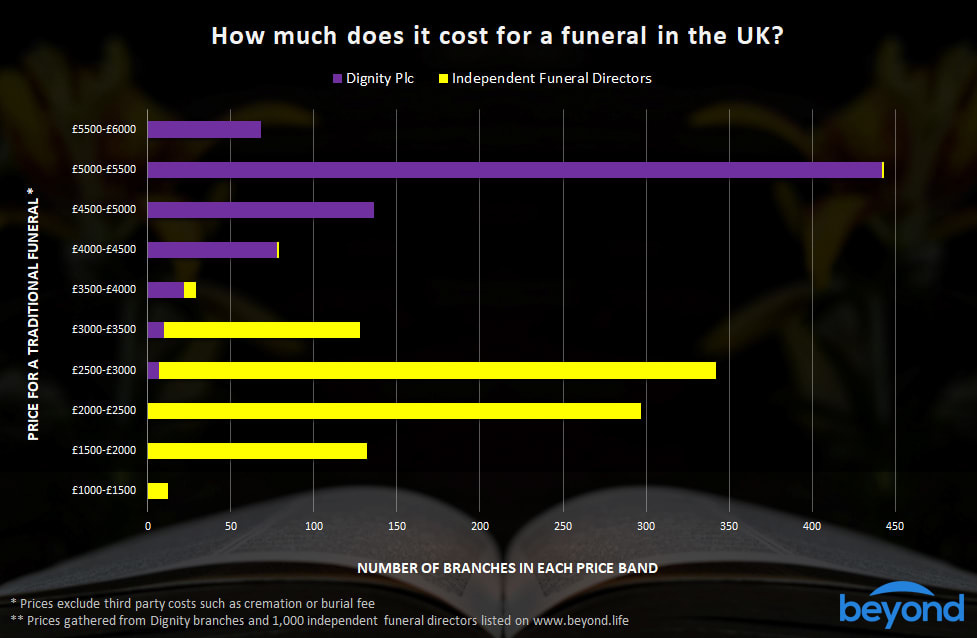 As a bonus, here are a few interesting facts about those prices:
The average cost of a Dignity-arranged 'traditional' funeral, with funeral director expenses, a hearse, one limousine and a wood veneer coffin is

£4,659

– that's not including third party costs, like the cost of the burial or cremation.

This is more than double the average for an equivalent funeral arranged by the independent funeral directors on Beyond, £2,087.
The most expensive branch we found was Jonathan Harvey in Glasgow, which charges £5,300 for a funeral with a hearse, one limousine and a wood veneer coffin (again, excluding third party costs).
The least expensive location we found was W Williams & Son in the leafy Cheshire village of Tarvin, which came in at £2,195 for the same funeral.
That's a difference of £3,105 between inner-city Glasgow and a Cheshire village.
Our data also revealed some odd pricing structures. For example: in Newcastle, if you go into R S Johnson & Sons you will pay £4,850 for the package above. But if you drive 10 minutes down the road (just 2 miles) to Peter Johnson Funerals, you'll save yourself £1,800 and pay only £3,050.
Where does this price information come from?
The horse's mouth. From July  to December last year, our intrepid team of volunteers gathered price sheets from 764 of the 814 Dignity-owned funeral homes in the UK. Fuelled by mince pies and justice, our co-founder James Dunn then teamed up with his mum Sharon to painstakingly enter every detail into our system over the Christmas break. It was very festive.
We warmly invite Dignity to send us any new or revised pricing whenever available – we'd be very happy to update our site and analysis accordingly (and give Sharon a welcome break).
How do the independent funeral directors on Beyond compare?
Over 1,000 independent funeral directors have chosen to list their costs on Beyond. On average, they're 36% cheaper than the national average funeral cost, and 123% cheaper than Dignity funeral chains in particular. And like us, they believe that people have a right to arrange the funeral their loved one deserves, without worrying about finances.
For this reason and others, we remain committed to championing the amazing work these independent funeral directors do – and we're confident that they will continue to flourish.
UPDATE: Dignity have recently responded to our research by questioning our methodology. You can check out our reply and find out more about how we collect and compare accurate prices here.
Want to find out more? Explore our funeral director comparison tool here, or contact the Beyond team at [email protected] for further details.