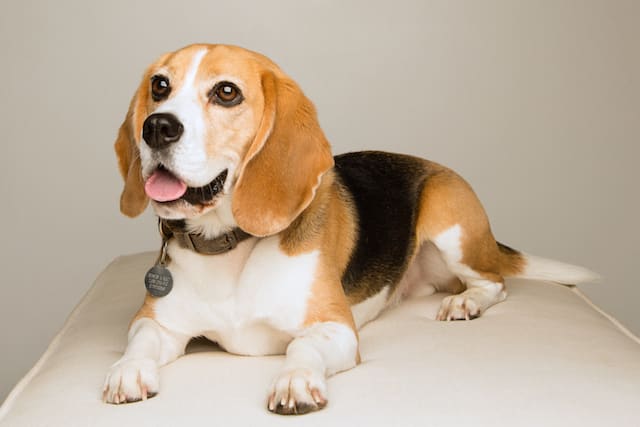 What makes someone a good fit for bereavement care? Kindness, attentiveness, a lovely glossy coat …
Basil, who puts in his hours in at Clive Pugh Funeral Directors in Abbey Foregate, Shrewsbury, might tell you it's all three – if he could talk. Basil is, after all, a dog.
In fact, the gentle and unassuming beagle is quite possibly the UK's first ever funeral therapy dog, working with Clive and Rosalinda Pugh to offer comfort and support to bereaved families.
"People love him because it feels as though they're coming into a home, as opposed to funeral premises." Rosalinda told Beyond when we caught up with her recently.
"We hope it's something that gives a bit of relief to people, even for a very short space of time, when they come to us to arrange the funeral of their loved one."
Offering paws for thought …
Basil joined the family business in 2016, at the tender age of six. Clive and Rosalinda's daughter had taken care of Basil since he was a puppy, but she was finding it difficult to give Basil the long walks he loves after having their first grandchild. Clive and Rosalinda were happy to step in.
"With Clive and I both working full time in the business, I said now that Basil is going to live with us, we will have to give him a role." Rosalinda explained.
"I knew that therapy dogs went into nursing homes and hospitals and I thought that Basil would be perfect in a similar role with us because he's just such an adorable beagle – so calm and loving."
Once Rosalinda and Clive started giving families the opportunity to spend time with Basil, they found that he was a perfect fit:
"He started coming to work with us every day, and we let people decide as to whether they wanted him there or not. And it's just gone from there."
"We have found that the majority of families are really pleased to have him around, to the extent that we had a funeral recently where the family wanted him to lead the coffin into church. They were thrilled that he was able to be there. I've been amazed at the response."
"We often get letters and cards from families asking us to say hello to Basil or thank him for being there."
Giving families a hound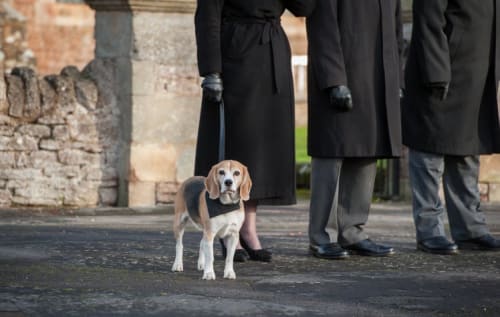 What's the secret to Basil's success? Recent studies have shown that support animals really do make a difference to the way we feel, lowering blood pressure and releasing mood-boosting hormones.
One study by Goldsmiths University indicated that dogs in particular are compelled to comfort people they think are in distress, and will even approach and nuzzle strangers who are crying in an effort to soothe them.
In a funeral home, this instinct to help can make a real difference to the bereaved. "Basil provides families with unconditional love and support, as well as a subtle distraction from grief," Rosalinda told Beyond.
"If you've ever had an awkward family reunion, you might know that a dog, even then, can brighten up the mood and give people something a little bit light-hearted to talk about. That effect is immediately helpful when you're arranging a funeral, because people are anxious when they come to see a funeral director. They're not sure what to expect, and I think Basil just takes a little bit of that stress away."
"Sometimes people are nervous of going into our Chapel of Rest, but if they have Basil with them, it seems to alleviate that feeling."
Every dog has his day
It's not just bereaved families who love Basil – he's now something of a celebrity. So far, Basil has been featured in a number of national and international newspapers, including The Times, The Express, The Independent, Metro News and even Paris Match. He's also made an appearance on ITV's This Morning, where Clive, Rosalinda and Basil were interviewed by Davina McCall and Ore Oduba of Strictly fame.
So, has Basil let all the fame go to his head? Rosalinda says not: "We're not letting any diva behaviour become evident, if we can help it. Definitely not. But beagles are such loving, affectionate dogs; I think that you can't go wrong, really."
"We've seen an incredible response. It's been quite amazing. You have to wonder why somebody didn't do it a long time ago."
Want to find out more about Clive Pugh funeral directors, home to the lovely Basil? Check out their profile here on Beyond.