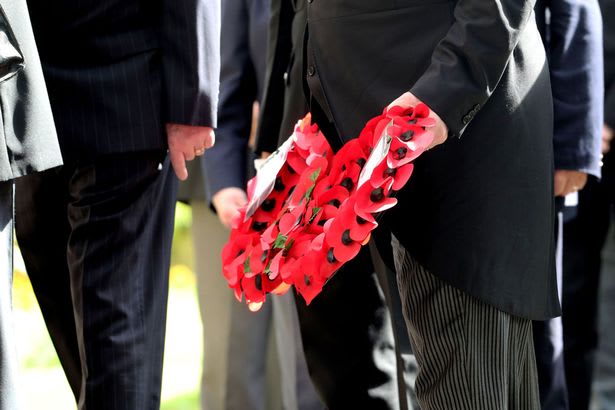 At Beyond, we always strive to highlight the important work that funeral directors carry out to provide families with the best care possible. Yet bereavement support does not always begin and end at the funeral home. A multitude of organisations, charities and community-led initiatives work in tandem with local funeral directors to lend a helping hand to families in their greatest time of need.
For the month of November, and with the spirit of Armistice Day in the air, we decided to speak with Paul Burrows, a founding member and volunteer at Veterans Bereavement Support Service (VBSS). Established in 2014, this unique service helps bereaved families whose loved ones serve, or have served, in the armed forces.
Hi Paul. VBSS is run entirely by volunteers. Where did it all begin?
The service came into being because we noticed that many families were feeling let down by the system. When it comes to bereavement care and support, many struggled to pay for the funerals of their loved ones, often due to high costs and a lack of financial assistance. We created Veterans Bereavement Support as an online resource, with the added benefit of real-time help and support as and when needed.
So, how does it all work?
Initially, we started referring bereaved families to independent funeral directors, as they are expert in offering a personal approach. We would then help them with the organisation of the ceremonial aspects of the funeral and, where possible, we contributed towards costs.
However, in the past 18 months our services have changed significantly. Whilst we do refer families to independents – as opposed to corporate funeral directors – we are always contending with restricted funds. Due in part to the rising cost of funerals, we are no longer able to give financial help to families. But, on the plus side, we are fortunate that many funeral directors still work with us and offer discounts to veterans.
Restructuring has meant that our services are now used by more families. As well as providing bereavement care and support, we offer listening services, advice on access to funding for funerals, the loan of coffin drapes and, if requested, we present the Veterans Memorial Pin to widows or the next of kin when a veteran passes away. Above all, we are here for veterans and their families at their time of need.
How do veterans' families typically make contact?
The families contact us directly asking for assistance – usually in the early days of their loss – and we make suggestions on how we can best support them.  There are some funeral directors who also contact us when they are handling a veteran's funeral, so we are always happy to help by offering our advice and support.
Today marks the centenary of Armistice Day, with commemorative events taking place across the country. Do veterans' funerals tend to differ in many ways?
We don't encourage people to view veteran funerals as different in too many ways; what we are doing is marking the passing of someone who has served our country in times of war and peace. There are some people who do not want any ceremonial aspects for the funeral at all, and this must be respected. Others appreciate symbolic gestures, like the ensign of their service draped over the coffin. In cases like these, we work to ensure that drapes are the correct size and are happy to loan these out to families that require them.
There are other instances in which a standard bearer, padre and representation from a specific regiment is required, and so we can work with families towards this end, too. Each veterans' funeral is unique and special according to the wishes of the family, and we always endeavour to make the family the central point of anything we are involved with.
We tend to advise against mass attendances at funerals and often discourage social media posting, as these can draw unwanted attention and detract from the overall dignity of the funeral service.
In this special year, there have been lots of low-key funerals, but one in particular stands out in my mind: that of a Normandy veteran, who died in Poole. We worked with the funeral director, the family and the regiment. It was a very moving experience for everyone and I, as a Padre, helped with the church service and conducted the committal at the crematorium. Present as the service were standards, fellow veterans who knew him, and a military guard of honour; the whole process was simple, dignified and respectful.
The VBSS aren't unfamiliar with going the extra mile to help families. Can you tell us any more about the lengths you've gone to in the past?
Yes, certainly. One veteran, who lived in London, had served in the WAAF (Women's Auxiliary Air Force) and then had moved onto Australia where she continued to serve in the Royal Australian Air Force. When she returned to the UK, she served in the police for 25 years.
We arranged for the RAF to send a representative, and the Commissioner of the Metropolitan Police also sent a personal message thanking her for the service given to the people of London. Even the Australian High Commissioner sent a wreath and a letter that was read at the funeral and given to the family!
Our main priority is providing bereavement care and support to families, and we have helped families across the country from Lands End to John O'Groats, Northern Ireland, Wales and most UK counties. Very recently, in fact, we were involved in a funeral in Wiltshire for a veteran of the Royal Hussars. We met with the family at the time of passing and helped them get the best priced funeral, and then helped them through the paperwork and funding. We then went on to arrange the whole funeral for them according to their wishes, and it was a fitting and dignified funeral.
Do you work with any other organisations or charities at all?
No, we are totally independent and have no links with the RBL or SSAFA or, indeed, any ex-service organisations. It's worth pointing out that neither do we get any funding from the government.
We prefer to be independent and non-political so that we may provide the best possible service to those who require our help in their time of need.
To find out more about the VBSS, you can visit their website at veteransbereavementsupport.com