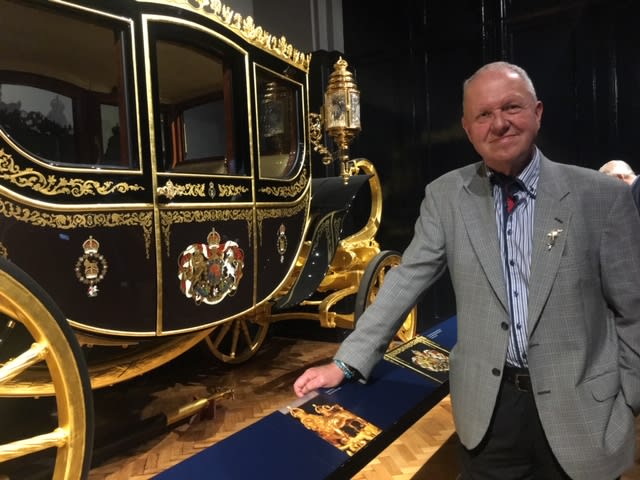 Here at Beyond, nothing makes us happier than hearing back from families who've found the perfect funeral director for their needs. This month, after receiving a particularly heartfelt review from Caroline Mattocks, we were left in no doubt as to who our Customer Champion Award winner would be: congratulations to Lee of Freedom Funerals in Colchester!
"Lee spoke to me like a normal person, which I really appreciated. I cannot convey what that meant to me. I had spoken to other funeral directors and, to be honest, they either sounded fake or spoke to me like I was a child. But not Lee. He was there whenever we needed him." – Caroline
To find out more about what inspired such an outstanding review, we decided to have a chat with Lee about his long experience with caring for bereaved families like Caroline's.
"My approach," he told us, "is really just to talk to families openly and honestly. It's all about making people feel at home and sitting them down and befriending them, if you like. People prefer that approach – that I'm talking to them and being normal."
Personal service
Established in 2004, Lee opened Freedom Funerals several years after his father died, holding firmly to the view that families could be provided with a better, more personal experience than what was offered to his family by one of the national chains.
"The business approach should be all about service; that people actually get what they want, and not what somebody is trying to sell them," Lee explained. "We're flexible, and we make sure everything runs like clockwork. I'd say it was old-fashioned service, with a modern twist."
A family affair
Like many other family-run funeral directors, Freedom Funerals is run by a father and son team, who strive to offer the very best family care, choice and value. However, as Lee was quick to mention, keeping it in the family doesn't always mean better service.
"Many funeral directors are still old-fashioned, passing their business straight to their sons. I don't see how that can always be a good thing because they've not got new ideas about anything – if you don't alter and change, your son is not going to alter and change," Lee told Beyond.
At the same time, Lee says that having different generations on staff can be a real asset. "Because he [Lee's son, William] is almost half my age, he looks at things differently. He maybe has a better idea of what somebody of his age group is thinking, as opposed to me."
The important thing is that all his staff feel that, like family members, they can always speak their mind: "Everybody who works for me is exactly the same. If they want to suggest anything, they know that I'm really open. If they want to say something, they can say it."
Ready for the next step
As regular readers of the Beyond blog will know, the results of the recent CMA investigation are still rocking the funeral industry. A stark call for more transparency and fairer prices, especially from the big chains, has created a backlash. We asked Lee what his take was.
"It's funny you should ask me about that, because I'm one of several who have been asked to write a parliamentary review. You see, the government was looking for people who have a different view on things," Lee explained.
"Yes, I think there does need to be more transparency, certainly. There's enough profit in the funeral industry for many to drop down their prices as well – to help out in the way that I'm doing [Freedom Funerals offers low cost funerals and share all their prices on Beyond].
"I've said that everybody could do what I do to help people in poorer situations, but many choose not to because they don't have to – they don't have the competition yet."
A funeral director you're happy with
Despite the changes that still need to take place within the funeral sector, families should still feel confident when approaching independents in their area.
On behalf of families who have recently suffered a bereavement, we asked for some advice from Lee: "I would always say to go and meet the person that's going to look after the person that's died. The priority should be finding somebody that you're happy with to look after your loved one, you know?
"Don't just take the first one you walk into; always find out who's actually going to be involved and make sure you are happy – that's what is most important."
If you'd like to find out more about Lee and Freedom Funerals, or would like to enquire about making funeral arrangements with them, you can visit their Beyond profile here.