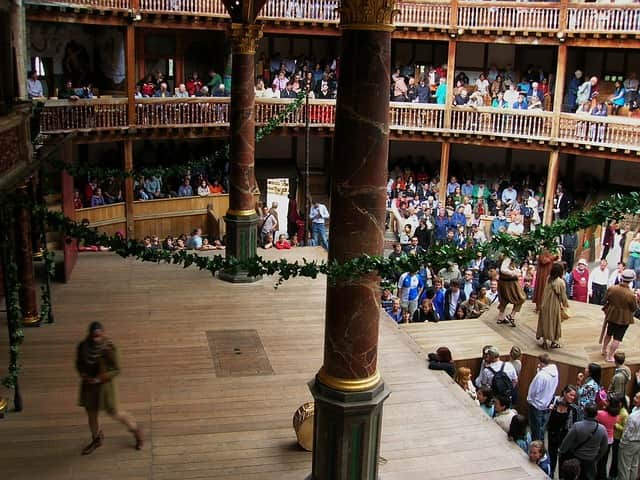 William Shakespeare is probably the most famous English writer in history, responsible for penning many of the most well-known poems, sonnets and plays in the English language. His writing continues to be appreciated some 400 years after his death. Though the true date of his birth remains a mystery, it is assumed to have been close to 23 April, the very same day on which he died. Shakespeare was perhaps best known for his dramas, which as one might expect are full of tragic deaths. By way of a celebration of his life and works, we've compiled a list of ten of his best quotes on death.
'Cowards die many times before their deaths.' – Julius Caesar
As part of one of the most famous quotes in Julius Caesar, 'cowards die many times' makes a comparison between the many small, personal 'deaths' a coward faces every time they shy away from a challenge and the one pure and true physical death that the valiant experience in the heat of battle.
'The worst is death, and death will have his day.' – King Richard II
Shakespeare often personified death and this is one of the most famous examples of him doing so. As Richard II hears that he has no soldiers to fight Henry, he immediately collapses into woe and despair, giving the audience a true indication of what kind of a king he is.
'Death lies on her like an untimely frost.' – Romeo & Juliet
Though Shakespeare often gave us profound insights into the effects or consequences of death, he was also well-known for his beautiful descriptions. This is the perfect example of such a description, with so much information and detail squeezed into a succinct and visceral phrasing.
'Why, thou owest god a death.' – Henry IV, Part I
This short quote is the introduction to one of Shakespeare's most famous soliloquies. It is followed by a long speech by the character Falstaff, who, contrary to the opinion of the character that speaks this quote, rallies against the futility of dying for an abstract ideal like honour.
'Tired with all these, for restful death I cry.' – Sonnet 66
This line begins Sonnet 66, a poem devoted to the problems and inequities in Shakespeare's time. In it, he adopts a world-weary tone that suggests he is tired with the inequality, untrustworthiness and treachery of his time and muses that death may be the only solution to his woes.
'To die, to sleep – To sleep, perchance to dream – ay, there's the rub, for in this sleep of death what dreams may come.' – Hamlet
In this quote, Hamlet is talking to himself, questioning whether it is better to die than to face his complex difficulties head on. However, he's concerned that even in death, he will not be free from the dreams and the earthly problems that haunt him in life.
'So wise so young, they say, do never live long.' – Richard III
As Richard III is a play about a man of questionable mental clarity murdering his own brother in order to become king, it's no surprise that there's a number of interesting quotes about death among its lines. This quote advises that young and clever men need be wary because the old will always consider them a threat.
'By medicine life may be prolonged, yet death will seize the doctor too.' – Cymbeline
Cymbeline may not be one of Shakespeare's most well-known works, but that doesn't mean it has nothing profound or interesting to say to the modern reader. This quote comes in Act 5, Scene 5 and discusses the inevitability of death. Though a doctor may prolong life, eventually even they will pass away and nothing will stand in the way of death.
'But now two mirrors of his princely semblance, are crack'd in pieces by malignant Death.' – Richard III
This quote is spoken by the Duchess of York and relates to her two sons. Learning of the King's death, the Duchess grieves the loss and laments the way death has corrupted both of her boys.
'Ay, but to die, and go we know not where.' – Measure for Measure
Another one of Shakespeare's less remembered works, Measure for Measure talks a great deal about death. This quote discusses the uncertainty surrounding death and our inability to ever know exactly what lies the other side of life.