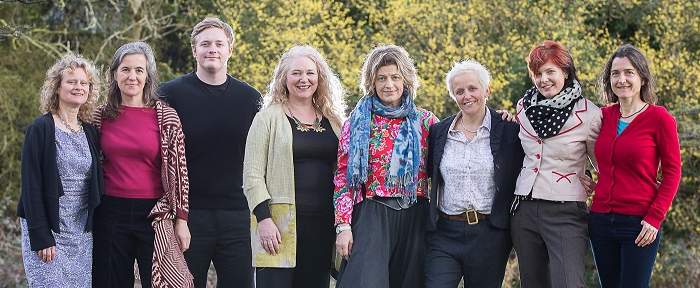 ARKA Original Funerals is an extremely well-regarded funeral directors with two branches in Brighton. On Beyond alone, they have as many as 10 5* reviews, and they have twice been honoured in the Good Funeral Awards, styled as the UK funeral industry's Oscars. In 2014 ARKA was named 'Best Funeral Director,' and just last week ARKA was recognised with the 'Best Care of the Deceased' award.
Check out real reviews, get accurate pricing and contact the Surrey Street branch here, and the Islingword Road branch here.
Interested in finding out what exactly goes into running a funeral home which is recommended so highly by both bereaved families and the industry, we spoke with Cara Mair, owner, founder and funeral director.
What's the story of ARKA?
I got into the funeral business in 1998, after my mother died. I started working in a traditional funeral directors in Brighton. It seemed really obvious to me at the time that there was very little by way of choice being presented to families, and very little by way of support for those who wanted a greater degree of involvement in the funeral arrangements.
Eventually I'd gathered enough experience to be able to open up ARKA, which we did in 2003. We offer a more bespoke and natural way of supporting people through the whole funeral process.
So it was enabling choice that you felt was lacking at the traditional funeral directors?
Well at that time in particular, it felt like it was more about making money and profit margins than it was about care for the deceased, and supporting bereaved families.
Some families will need more support and some less, but sometimes funeral directors are not the most welcoming of establishments. You look at the way in which they can dress, the way in which they sometimes decorate their funeral homes…the windows are often shrouded in dusty, velvet curtains, there's a tombstone on display…my hunch is that a lot of people are going to be fearful of what they'll find inside, and will rush through the arrangement process just because they want to get out of that dark and dreary place.
What we try to do at ARKA is to create a space where people can feel as comfortable as they can, where they can meet and speak to normal people about the person who they're arranging a funeral for. The whole process is very relaxed, it's an open discussion. I don't want to blow our own trumpet, but I think we're very good at listening to people and what they want. We don't bombard them with information, but present it based on their unique requirements. We make a point of booking in two, two and a half hours for the initial meeting because you never know where the conversation will go.
Seems as though you try to make the difficult process of arranging a funeral a little gentler for people in a vulnerable frame of mind.
We try to slow the process down for people, to give them room to think about each option in a more considered way, rather than pressuring them to make all of their decisions then and there. In our opinion, this is a far better way of guiding someone through the funeral arrangement process. Quite often the family will need to think about the money aspect, and not least what was most important to the person who died, and this can take some time.
Looking at your website, you all seem very colourfully dressed. This chimes with what you were saying about moving away from the ingrained expectations of a funeral director.
Well, we're very respectful. We just don't believe that wearing dark clothes or uniform suits is a way to show respect. We act respectfully by being ourselves, and trusting that this comes across in a transparent and unguarded way. We couldn't pretend to be someone that we're not.
All of us here, there's eight of us now, are proud of what we've achieved.
You've twice been recognised for your work at the Good Funeral Awards. What goes into winning an award?
The Good Funeral Awards are awarded based on customer feedback and on testimonials from within the industry. This all comes from many different places, and it was fantastic for my colleague Sarah Clarke-Kent to win Best Funeral Director in 2014, and also to win an award for Best Care of the Deceased this time round. This year was actually the first time that this particular category was in place, and it replaced 'Embalmer of the Year,' which made it especially satisfying for us as chemical embalming is something that we just don't do.
Why don't you embalm?
We just don't agree with it. We know it's a very invasive procedure that uses horrible and carcinogenic chemicals. If a body is looked after well then there's no reason to embalm and families can still be involved. It's also an extra cost for the family. Embalming is only needed if bodies are repatriated overseas.
You place a lot of emphasis on family involvement, in terms of dressing and washing the deceased, for example. Do you find that this is something that families are interested in, generally speaking?
If families across the board knew that this was something they could get involved in I think many people might be keen to know more. The trouble is that people don't even know that this is a possibility, which doesn't allow them to make informed decisions.
It's often only after the funeral that people realise that they could have done things differently, and that's a real shame. That's why we try and slow down the process, so that families can decide on their level of involvement, and how the funeral will work.
There's a lot out there now with people who have had negative experiences arranging a funeral and it's great that there is now a move towards claiming death back for society, where people are caring for their dead, as they do for those who are unwell. This can have a hugely beneficial effect on the grieving process.
The funeral industry in the UK is still very much powered by the big boys, the large chains, and it's down to us as a society to make bereaved families aware of their options, and how much they're often being taken for a ride. We need to empower each other to be asking these questions – can I see the body, can I dress the body, what do your fees include, and so on.
How have you approached your pricing?
You don't need a funeral director. If you are engaging a funeral director, you should be getting something from them that you can't or don't want to do yourself. Sometimes funeral directors actually do very little for the money that is charged. We aim to work in an open way, clearly stating costings and how people can save money.
There's no objective measures for what is 'a fantastic job,' what is 'right' and what is 'wrong' from a funeral. It's important to ensure that each family is being approached as per their needs, but ensuring that they are receiving dignified, respectful funeral support in accordance with their wishes and taking into account the funds that are available.
ARKA specialises in natural funerals. If someone wanted a more traditional funeral, would you facilitate this?
Absolutely. We are able to support on burial, cremation, direct cremation, no-service funerals through to highly organised, religious services of any faith. We will make sure that the family understands that they have choices. There are only two things that we won't do: embalming, and wearing top hats. We will dress smartly of course but prefer to blend in, just wearing our ARKA brooches. I do think that if someone wants embalming and top hats then they won't choose ARKA anyway.
Are there any particularly memorable funerals that you've arranged at ARKA?
Some of the most memorable are the most simple, beautiful and quiet ones, with just a few people there. A very intimate affair. Others are larger, with steam rollers carrying the coffin. It's horses for courses really! We support many funerals and of course some funerals resonate more with us than others.
I suppose every funeral is memorable in its own way.
It should be memorable for the people who are grieving. We are there in a professional capacity, and it's more important to us that the family and friends find the service memorable. We're not doing it for us, we're doing it for them.
Why did you sign up to Beyond?
I think in many ways it's driven by the market. People are looking online now, and if someone can find us and feels that we are more suitable for them than someone else, then that's a good thing.
Thanks for your time, Cara, and congratulations once again on your win at the Good Funeral Awards!